Ariana Grande is only 28, but she's already racked up a whopping 55 tattoos. Ariana Grande shows off her many tattoos in her Instagram photos. There are several on her left arm, left hand, and she has a small black heart tattooed on her ring finger.
But Ariana Grande has had some tattoos removed, including her tattoos associated with her ex Pete Davidson and his late father.
Ariana Grande's Tattoos
The pop star has plenty of ink. All of her iconic tattoos have a special meaning to her, usually relating to her fans or her concerts. For example, she has a bee tattoo behind her ear to commemorate her 2017 concert in Manchester , where a tragic terrorist attack occurred.
Ariana Grande often wears long sleeves or gloves to cover up her tattoos. For example, eagle-eyed fans noticed she had them covered up at the 2021 performance with The Weeknd at the iHeartRadio Music Awards.
She also covered them for her wedding day to Dalton Gomez. Some fans theorized she did so because of a guilt trip from her Italian mother, joking that all the money and fame can't stop your mother from dictating how you appear on your wedding day.
Butterfly Tattoos
Ariana Grande has two butterflies tattooed on her arm, one pictured here with the top of the other visible. She had the top butterfly done first, and then Grande added the second butterfly under it. Typically, a butterfly tattoo is a symbol of personal transformation but can also represent people we've lost.
Manchester Bee and Crescent Moon Tattoo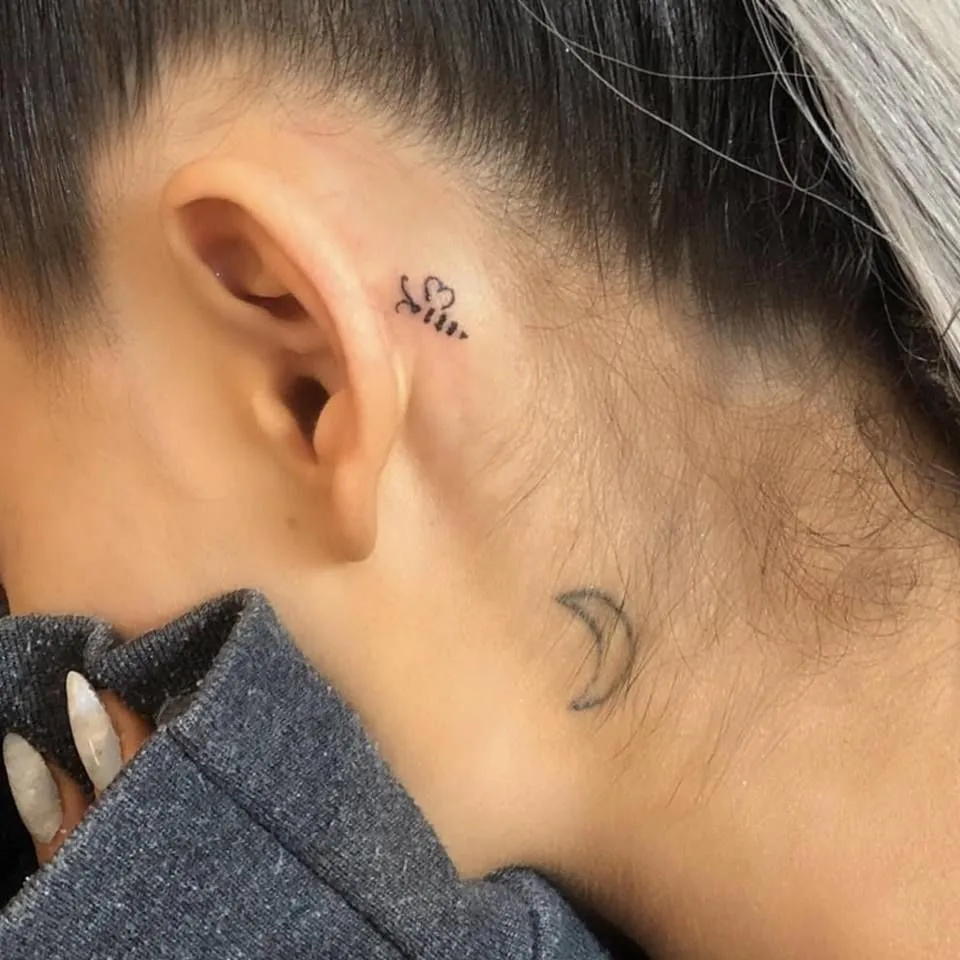 credit: pinterest
Behind her ear and on her neck Ariana Grande has two tattoos, one is a small crescent moon tattoo, and the other is a bee. A terrorist attack occurred during one of her concerts at the Manchester Arena in May 2017, and tragically twenty-two of her fans were killed and over a thousand injured. Ariana had a bee, the symbol of Manchester, tattooed behind her ear to remember those lost and injured during the concert.
Neck Tattoo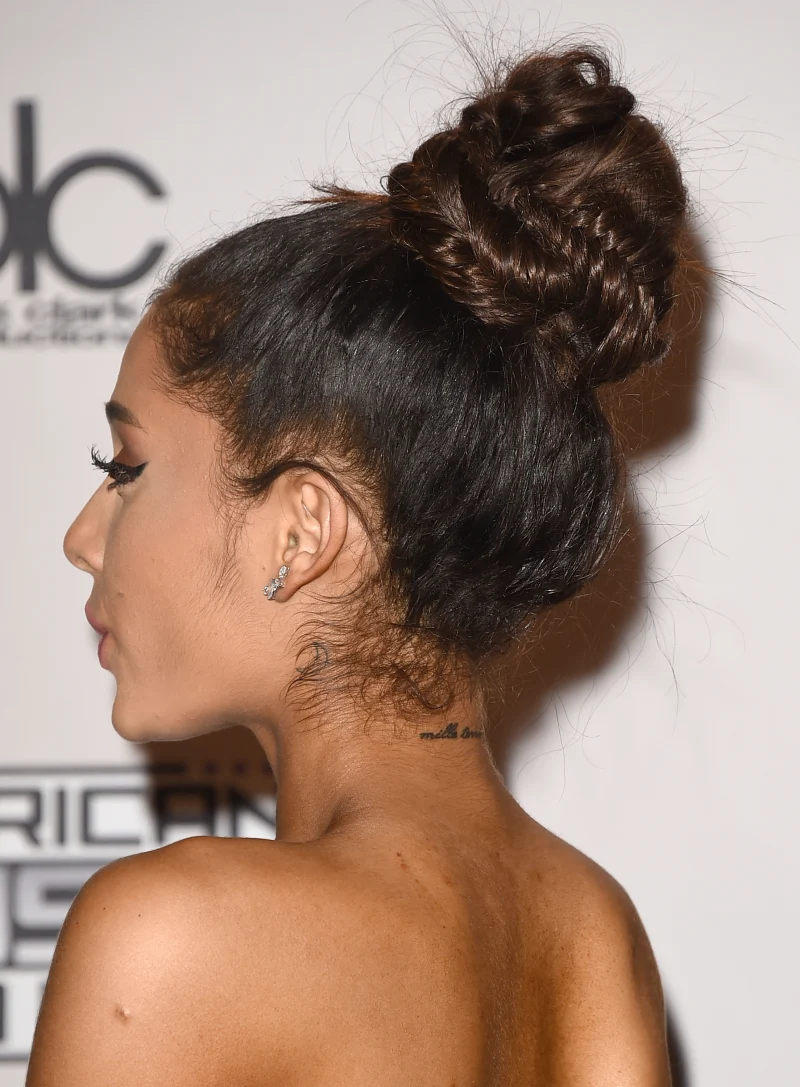 (Image Credit: Life & Style )
Ari has the French phrase 'mille tendresse' tattooed on the back of her neck. It translates to a thousand tendernesses. The quote comes from one of her favorite movies, Breakfast at Tiffany's.
Truman Show Tattoo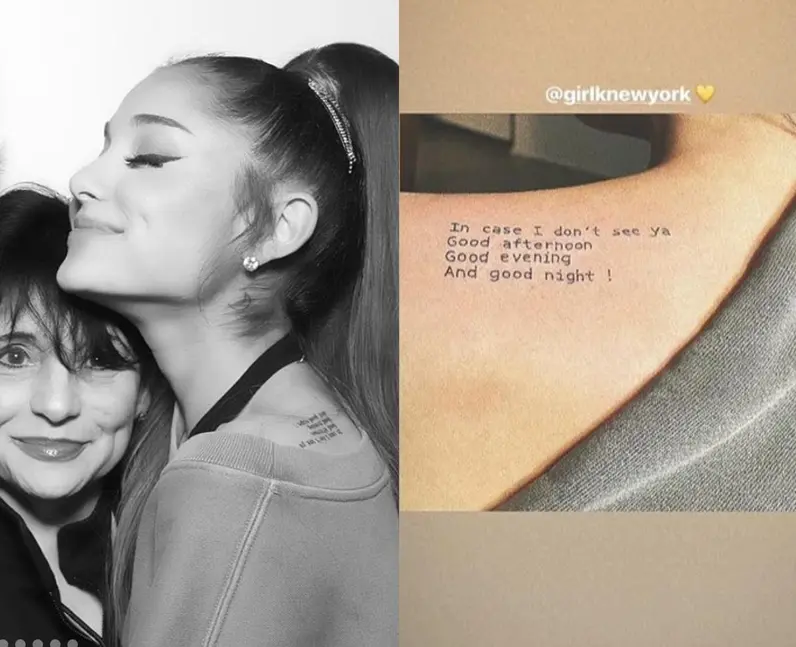 (Image Credit: Popbuzz )
Ariana Grande's shoulder tattoo was inspired by The Truman Show movie. The tattoo reads: ''In case I don't see ya, good afternoon, good evening, and good night.'' She said the film was one of her favorites while growing up. Her friend Courtney Chipolone has the same tattoo.
Chihiro Tattoo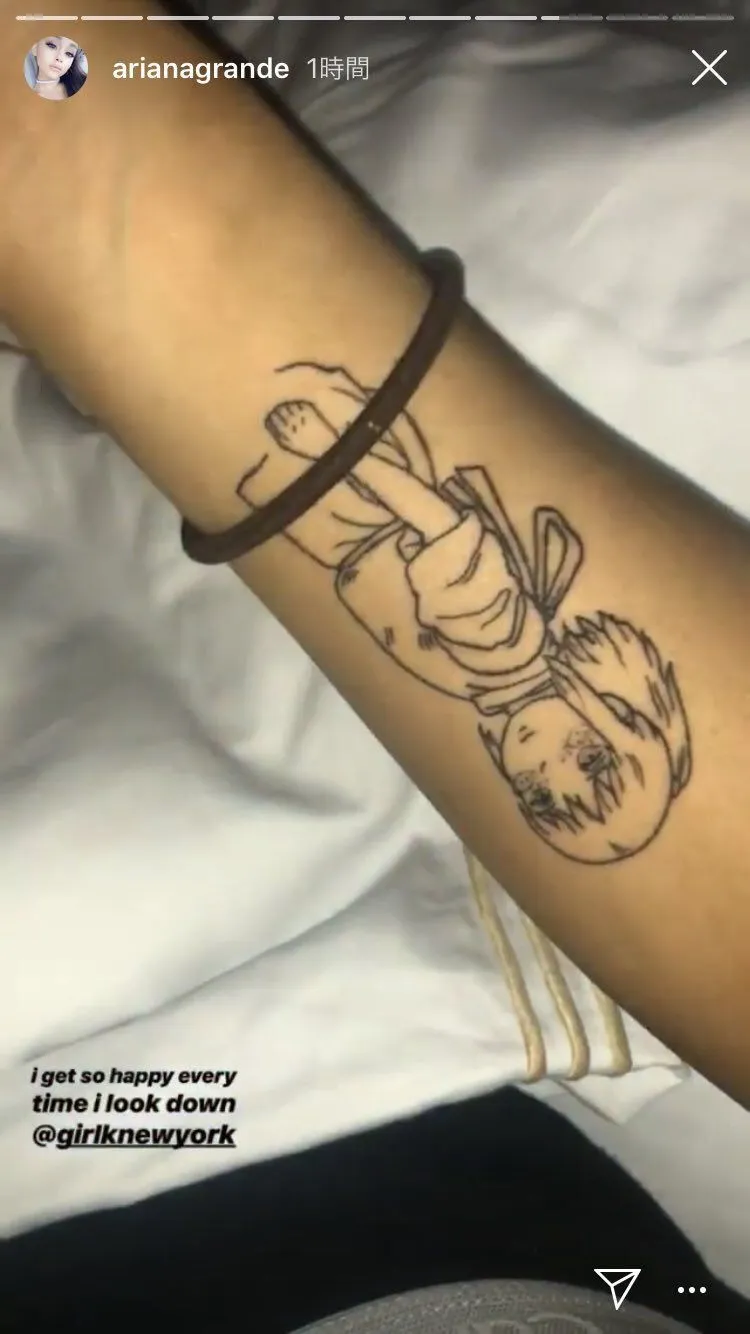 (Image Credit: Pinterest )
In 2018, Ariana Grande showed off a new tattoo on her right arm of Chihiro in Spirited Away. She explained she is related to Chihiro, who goes into the Spirit World and matures from an ''easily scared girl with a child-like personality'' and turns into a ''hard-working, responsible, and brave young girl.''
Pokemon Tattoo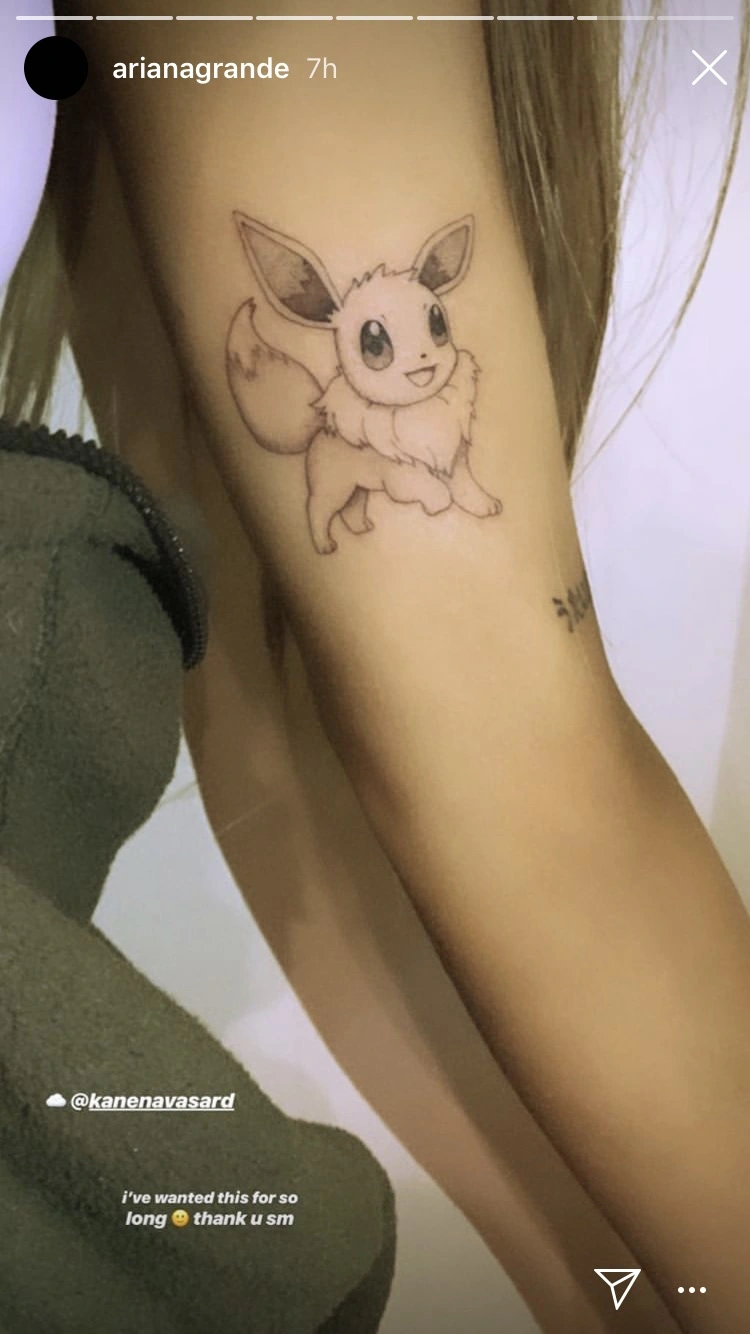 (Image Credit: HelloGiggles)
Another of Ariana Grande's left arm tattoos is Eevee from Pokemon, a tribute to one of her favorite games. After playing Pokemon Let's Go Eevee for 15 hours nonstop, she shared this online. She has always been upfront about being a Pokemon fan.
Seven Rings Japanese Tattoo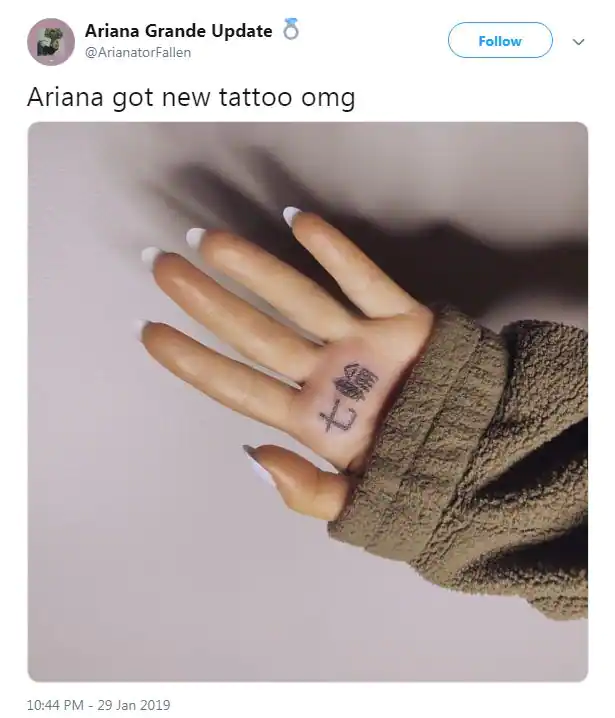 (Image Credit: CBC )
In 2019, Ariana Grande got a tattoo that was supposed to mean 'Seven Rings' in Japanese on her palm. When she debuted it in a photo posted to Instagram, her Japanese-speaking fans reportedly said it read ''charcoal barbecue grill'' or ''small charcoal grill'' due to a translation error. She's had the tattoo fixed since, but some fans still say the translation isn't correct.
Foot Tattoos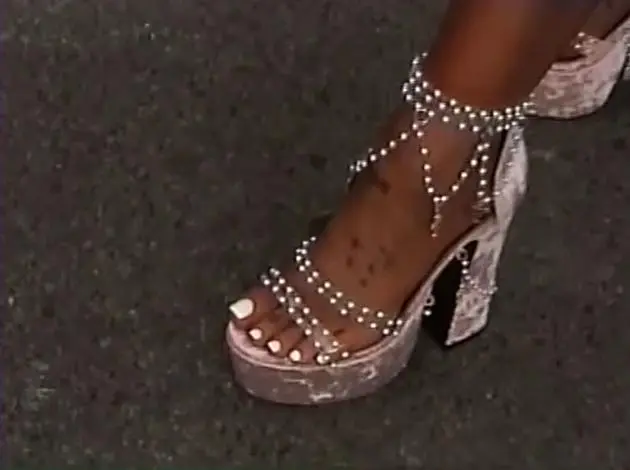 (Image Credit: PopBuzz )
The pop star has a couple of tattoos on her feet, although it's challenging to find a clear picture of them. She has a hand-drawn moon and stars. Above that, she initially had a tattoo to commemorate her ex-boyfriend Pete Davidson's father, a firefighter in NYC who died during 9/11. After her ex-fiancé Mac Miller's death, she adopted his dog and had the tattoo covered. The replacement is the dog's name 'Myron.' Eagle-eyed fans noticed the change in behind-the-scenes images of one of her music videos.
Lotus Flower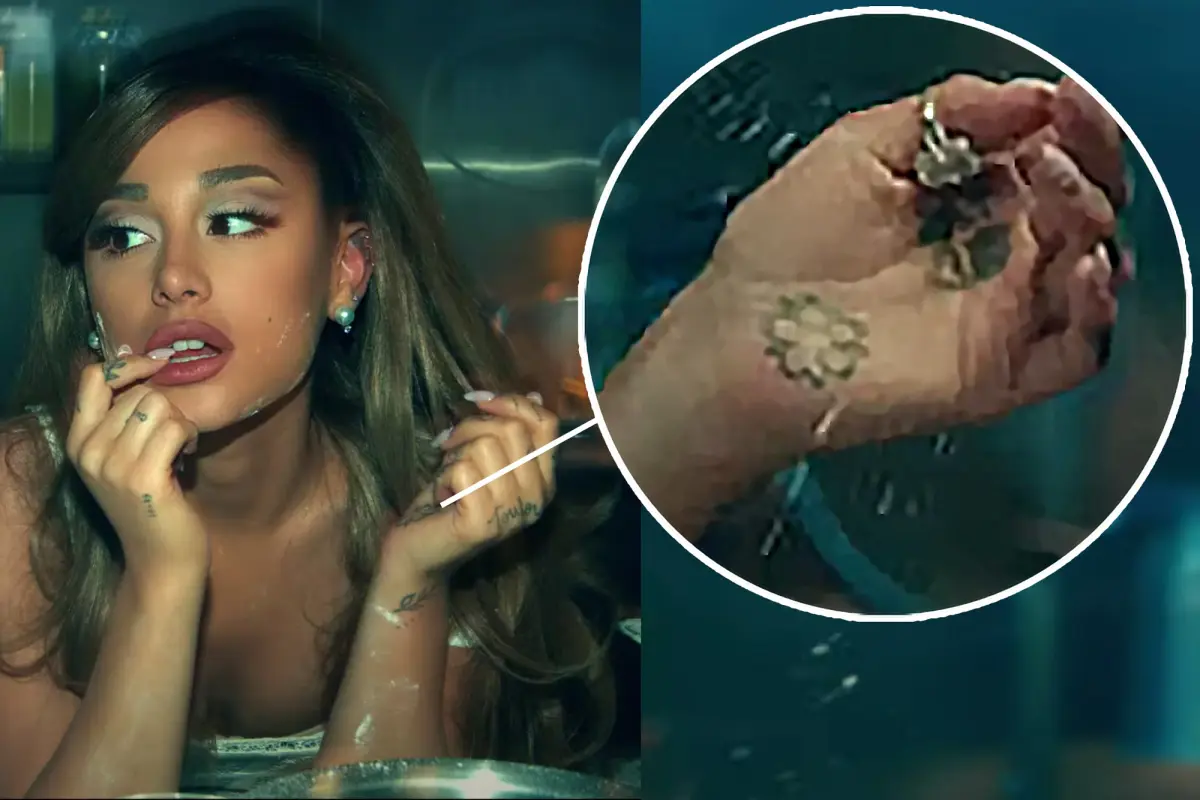 (Image Credit: PageSix )
Ariana debuted a new tattoo of a sakura flower on her palm during the filming of her 'Positions' music video. In the image, you can also see the Toulouse tattoo on her hand, remembering her family dog growing up, and a vine on her wrist.
Baby Doll Tattoo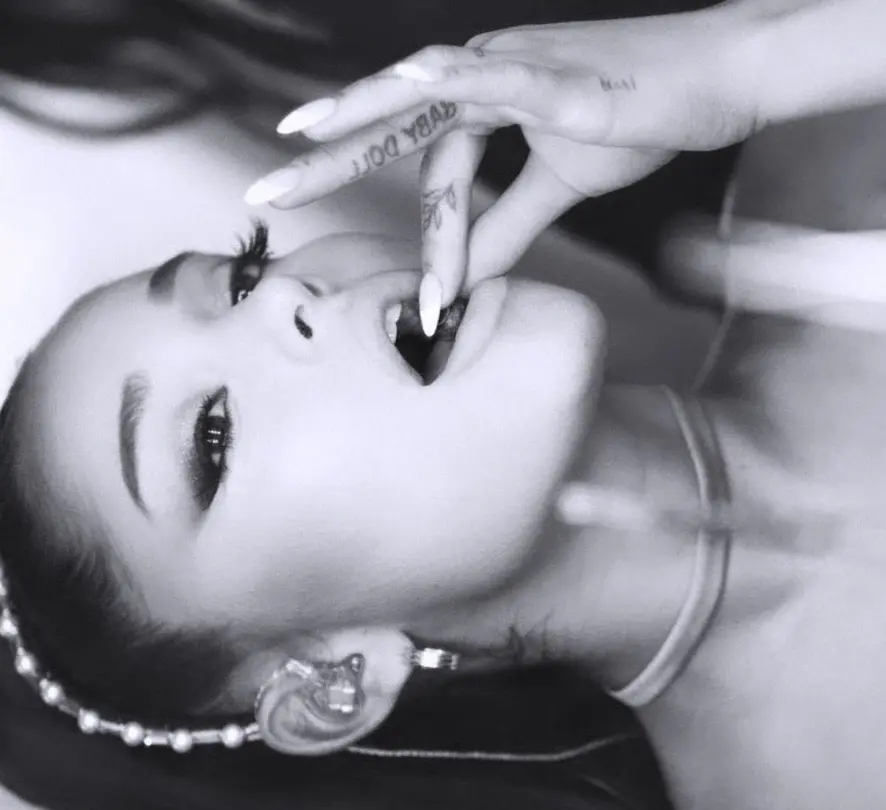 (Image Credit: Insider )
Ariana Grande has her nickname 'baby doll' inscribed on one of her middle fingers.
Bellissima Tattoo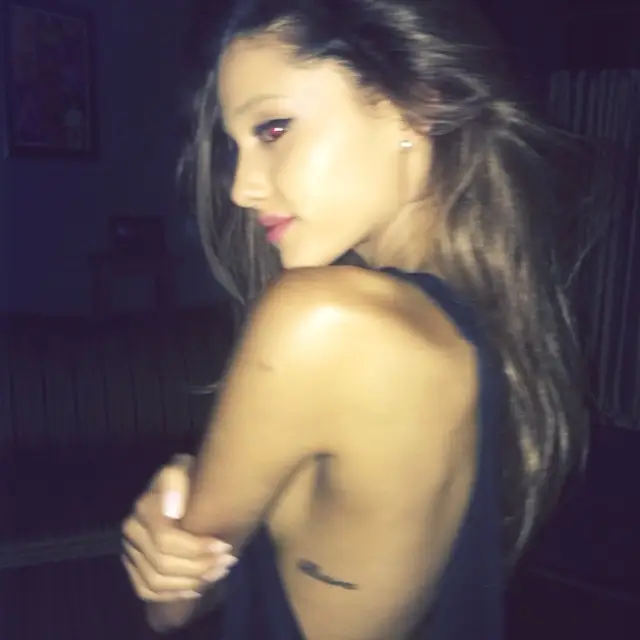 (Image Credit: Insider )
Ariana Grande has the word 'Bellissima' tattooed on her ribcage as it was a nickname her grandmother gave her when she was a child. It's the Italian word for 'beautiful' in its feminine form.
Where To Get Your Tattoo
If the pop singer's ink has inspired you, there are plenty of places you can get a tattoo. If you're getting your first one, you want to ensure it's a trusted and skilled tattoo artist. Lots of Ariana Grande's body art has been inked by Mira Mariah. Here are some resources to get you started:
Affiliate Link 1
Affiliate Link 2
Affiliate Link 3
Conclusion
This article has been a complete guide to Ariana Grande's tattoos. The pop singer has plenty of famous tattoos to admire, and she has attached special meaning to each one, drawing from her childhood and favorite TV shows and movies.
If you're looking to get a tattoo, there are plenty of tattoo artists you can go to. Just make sure you do your research and go to a reputable artist.
Check out the list of tattoo ideas below for even more inspiration!