You've found the best location to browse for fascinating tattoo information! To keep you informed and motivated, we've put together a list of interesting trivia about tattoos.
Continue reading as we also walk you through the highlights of some of the strangest, coolest, and most fascinating tattoo designs, such as butterfly tattoos.
Butterfly Tattoo Meaning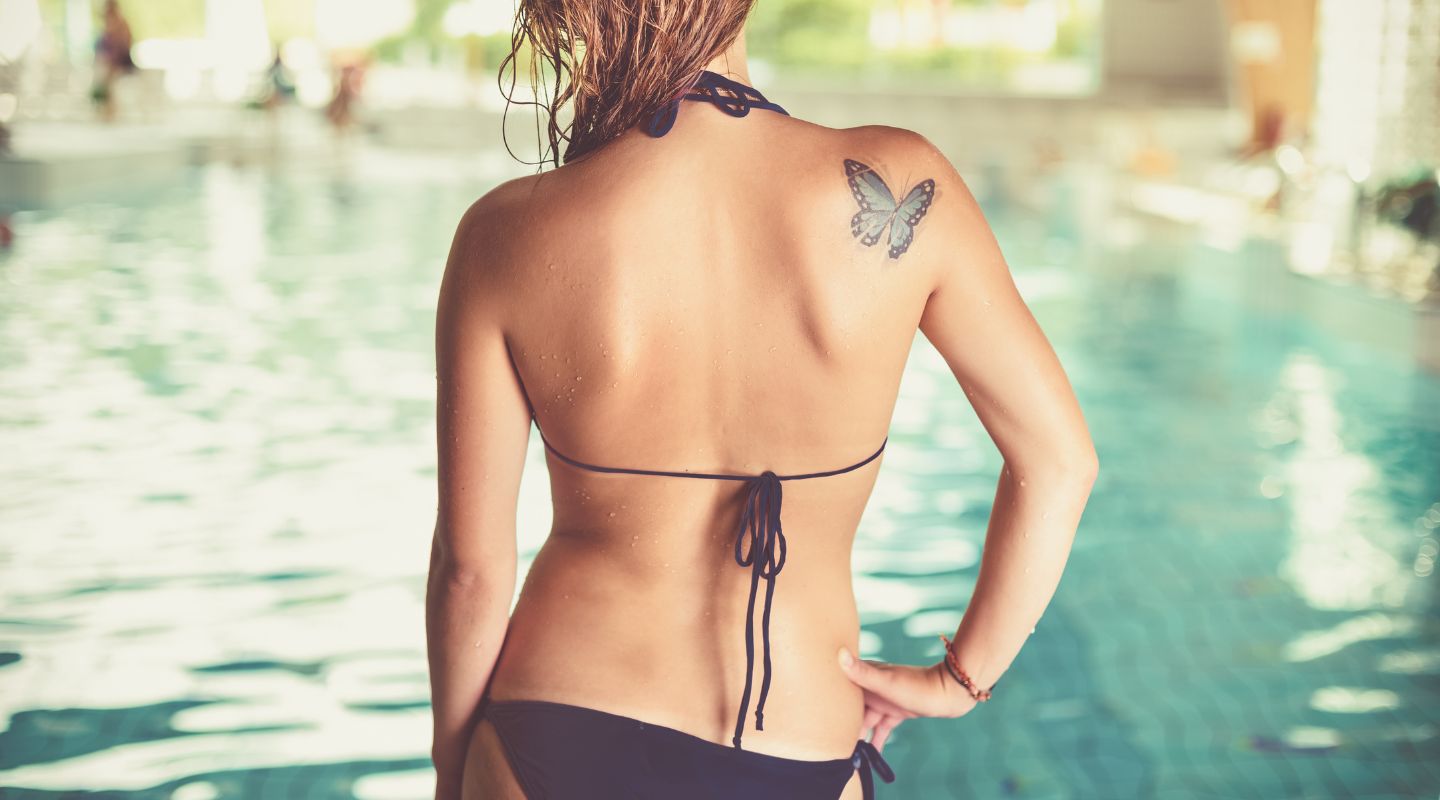 Traditional butterfly tattoo meanings include perseverance, beauty, and change. These take the form of widely used designs that can be produced in a wide range of aesthetic and technological contexts.
Unique butterfly tattoo can be found in a wide range of sizes, colors, and forms.
Your tattoo artist can create realistic butterfly or artistically rendered depictions of these tiny tattoos and vulnerable creatures along with other natural components, such as different patterns like crescent moon, vibrant colors, bright colors, infinity symbol, red roses, wings, and so on.
Popular tattoo choices that can also be incorporated to butterfly tattoo designs as additional distinctive or meaningful aspects are the butterfly skull tattoo, infinity butterfly tattoo, semicolon butterfly tattoo, butterfly wings, monarch butterfly, butterfly's wings, and more.
What Does a Butterfly Tattoo Symbolize?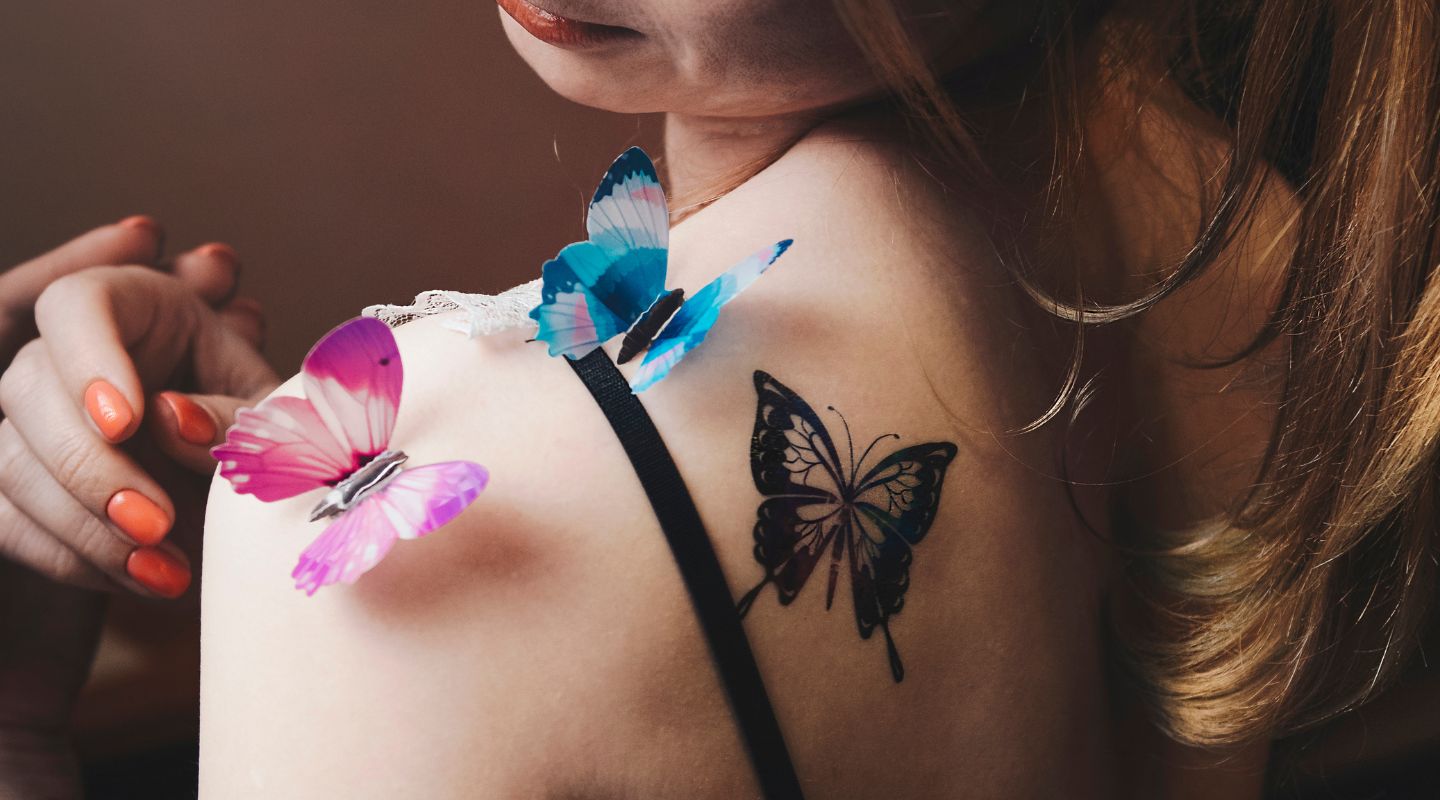 The traditional meanings of a butterfly tattoo design include beauty, freedom, and metamorphosis. It also represents strength and represent grace resulting to a perfect canvas of your popular tattoo choice.
A picture of beauty in nature is a butterfly. In tattooing, they might stand either optimism and a bright future or the transformation of a bad situation into something better and more uplifting according to the concept of metamorphosis.
Additionally, they can heighten your senses and elevate your imagination to new heights while enticing you to explore other universes. They have meanings and expressions that are unique to the person who has them and the tattoo artist who gave the great butterfly tattoo idea in the person's new beginnings.
Each butterfly tattoo is distinctively diverse to many cultures and expresses the wearer's personality in a different way. Every tattoo has a unique backstory. Each collector also does. They are narratives that may depict significant events in your life that you want to remember.
Giving someone their wings indicates you've empowered, emancipated, or permitted them to act independently. This amazing tattoo, which combines a calligraphy and watercolor tattoos design, has a lot to say.
Large, full-color butterflies like this one of a black butterfly tattoo, white butterfly tattoo, and even blue butterfly tattoo are conversation starters, as seen in this tattoo design on someone's abdomen that resembles jewelry.
On the other hand, small butterfly tattoo are very attractive and is a great idea to get on your first tattoo experience!
Butterfly Tattoos for Women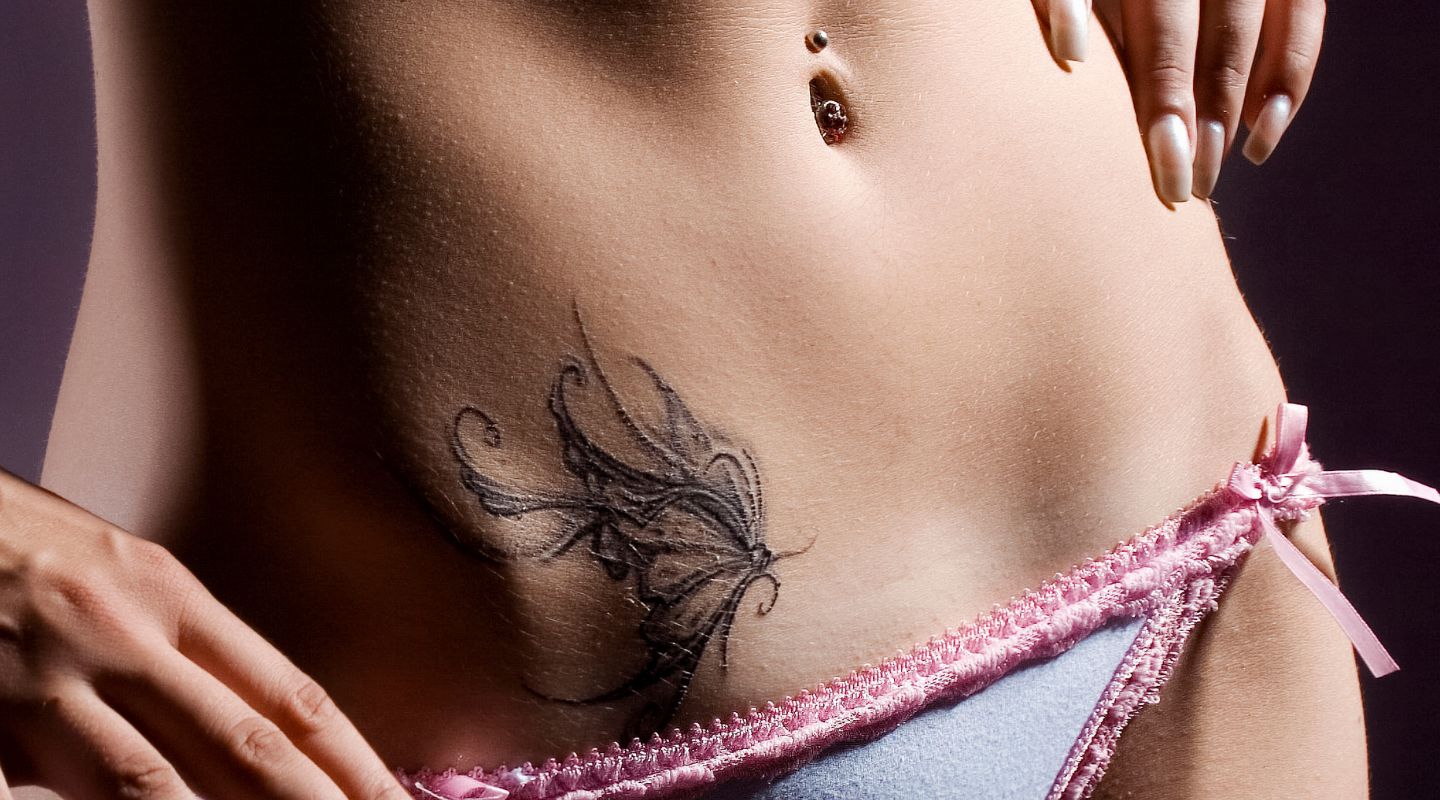 For ladies, butterfly imagery can be created to be seductive and exude the height of femininity, showcasing the beauty of both the butterfly and the woman as separate but equally beautiful beings.
Any arrangement of the woman's likeness with a butterfly results in astounding shape of beauty.
The sex appeal and beauty of the butterfly images will be increased by combining them or by placing the butterfly design in a great location on the human body, such as in the upper arm , ear, rib cage, shoulder blade, ankle tattoo, and even in easily hidden painful areas.
Although butterflies are typically connected with femininity in tattoo art, guys are becoming more and more attracted to them because of different phases with luck, mental health, and the metamorphosis associated with a lovely way and a new beginnings!
3D, Colorful, and Realistic Butterfly Tattoo
Source: pinterest.com
When compared to a butterfly that is actually alive in the wild, colorful butterfly tattoos are the most lifelike.
They accurately capture the spirit of the avian beast. These tattoos reflect the fragility and beauty of the live creatures via the use of vivid color ink, striking contrasts, and mixed shading, which is why they are so well-liked.
Your imagination is stimulated when you look at a lovely butterfly tattoo, enabling you to appreciate the natural beauty of butterflies. Thus, you may picture butterflies fertilizing flowers while they flutter through the air in real life.
The 3D butterfly designs are intended to pique your curiosity and make you question what your eyes are seeing. Your butterfly will come to life thanks to shadows and realistic hues, which will give it a distinct personality and a genuine appearance.
Despite being just ink on the skin, they seem to breathe dynamic life and undergo alteration. They stand for beauty, liberty, freedom, and a desire to grow and develop beyond who you are right now.
Exploring the Theme of Duality by a Tattoo Artist
Source: pinterest.com
Butterfly tattoos that feature skulls or tribal designs juxtapose the peaceful coexistence of two different eras of space and time.
The coexistence of the living and the dead is a natural, peaceful relationship. Since cycling represents life, death, the human soul, and the possibility of rebirth, it follows that one will unavoidably lead to the other at some point.
There are many different methods to express these opposing principles in duality, which is an interesting and frequently depicted theme in tattoo art. These images of life and death come together in a captivating way that shows no division because they are interconnected and always will be.
The artwork is elaborate and detailed to display the artist's great expertise. The ability to seamlessly combine two different dimensions into one image gives beauty a new name.
The Semicolon Butterfly Design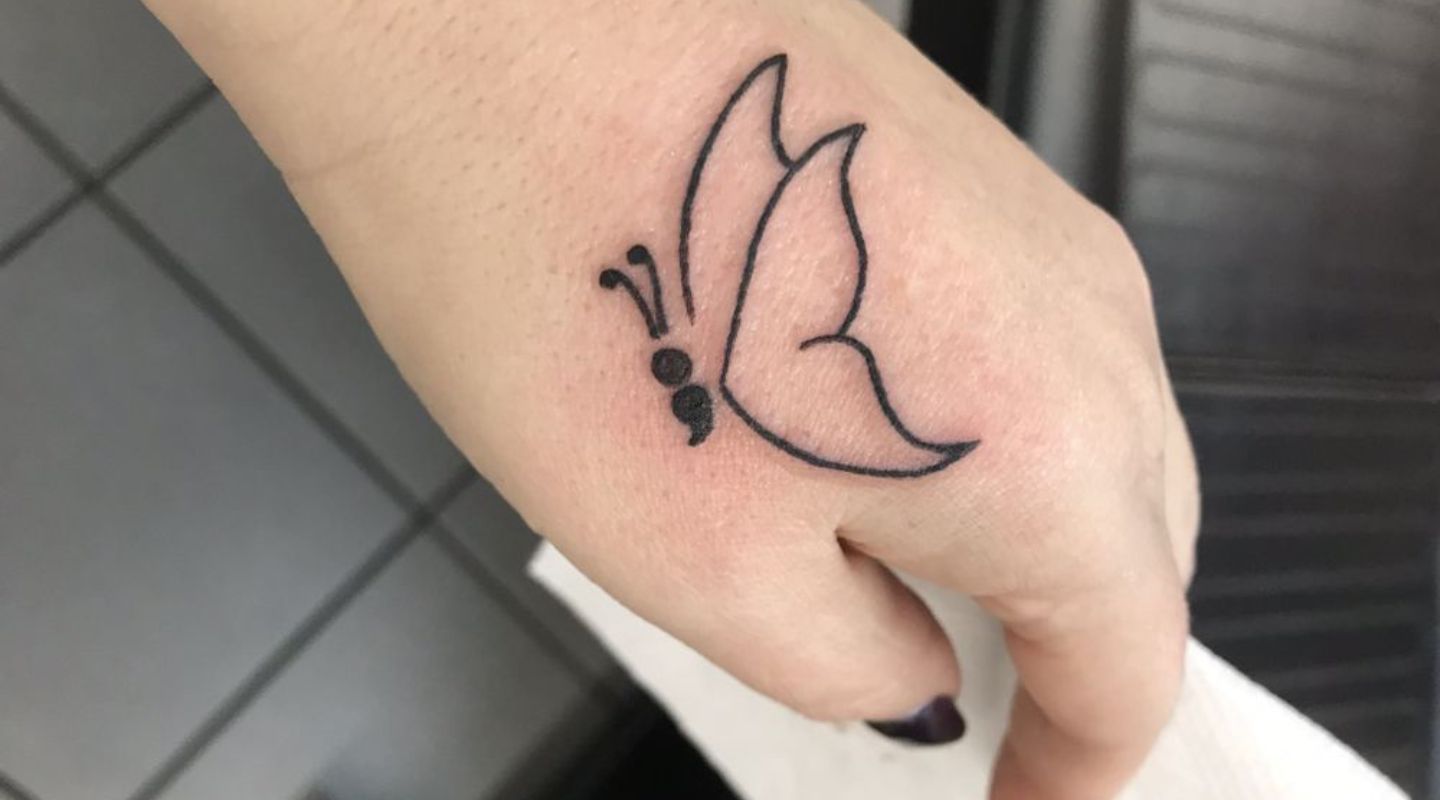 Source: pinterest.com
For many who struggle with suicide thoughts, depression, and other severe mental health issues, the straightforward semicolon tattoo serves as a flashing neon sign.
The symbol, which is etched into larger tattoos like the butterflies in this collection, has gained popularity as a permanent ink reminder that people's tales are still alive and still have to be told, despite serious difficulties.
The semicolon tattoo has shown to be an excellent way for sufferers and supporters to identify one another; it serves as a psychological focal point that can help dispel the stigma associated with self-harm and suicidal thinking.
Different Sized Butterflies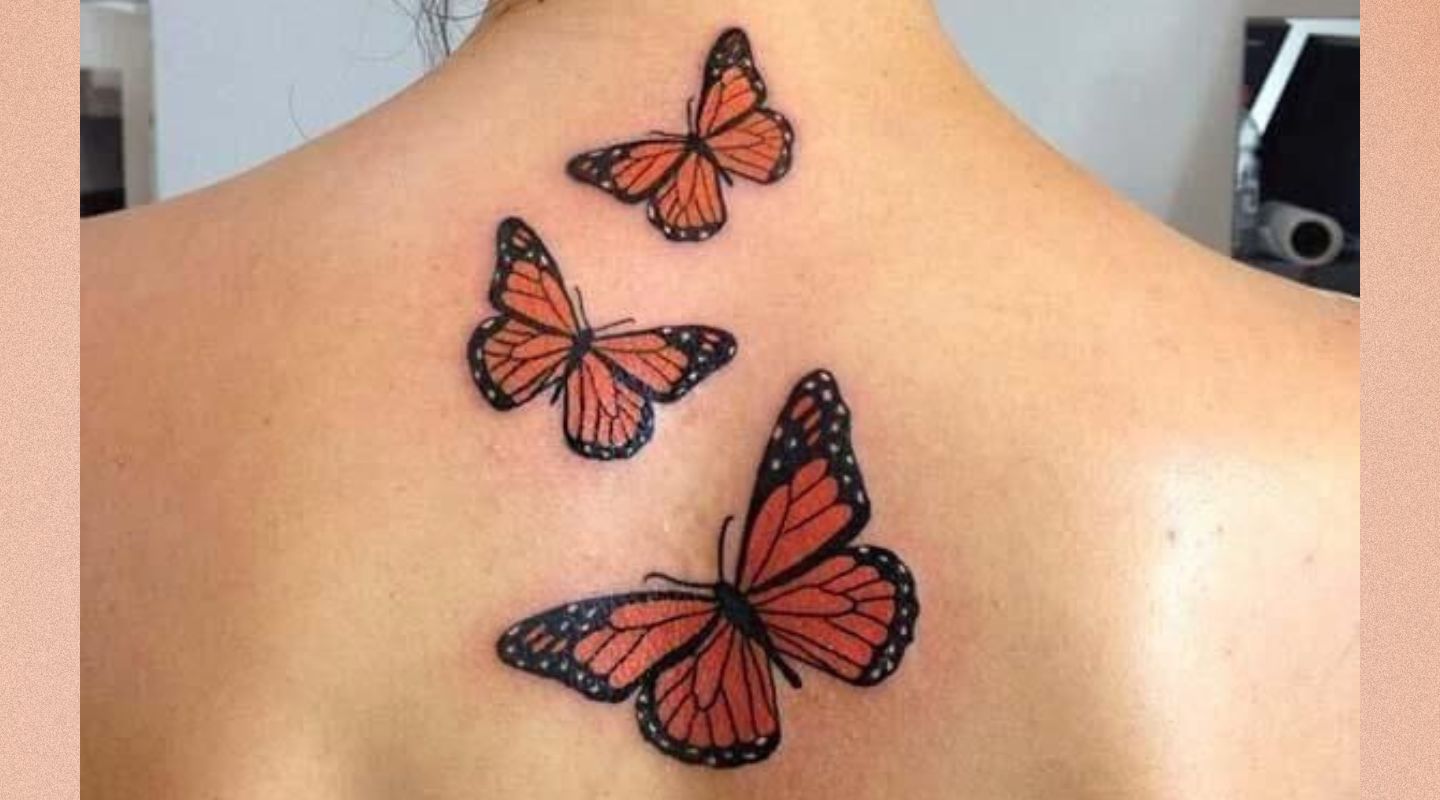 Source: pinterest.com
The natural, playful beauty of butterflies is incredibly enticing. They exhibit a surprising power of strength despite being clearly frail.
Their brilliant hues and intriguing patterns arouse thought. Whether it's a tiny butterfly tattoo or something much bigger, they hint to grace and beauty in one image that sparks the mind. A pleasant and appealing tattoo of a very tiny butterfly can spark interesting discussions about the fragility of life and how valuable it is.
Many exquisite and tasteful butterfly tattoo designs are little or tiny. Bright hues, such those in a striking neo-traditional butterfly tattoo or a watercolor tattoo, can subtly contrast with your skin tone and stealthily draw the attention of onlookers.
They can also serve as a lovely accent, highlighting your inherent attractiveness when put in a prominent location. These tattoos frequently depict both fragility and strength at the same time.
Collectors also love large butterfly tattoo design concepts. When positioned carefully, they accentuate the natural beauty of that particular body part. They are attractive, captivating, and endearing, but they also assert their dominance, which results in an enticing and fascinating butterfly tattoo.
This content was created by tattoodesign. If you see this on another site, it has been stolen.
Tiny Butterfly Tattoo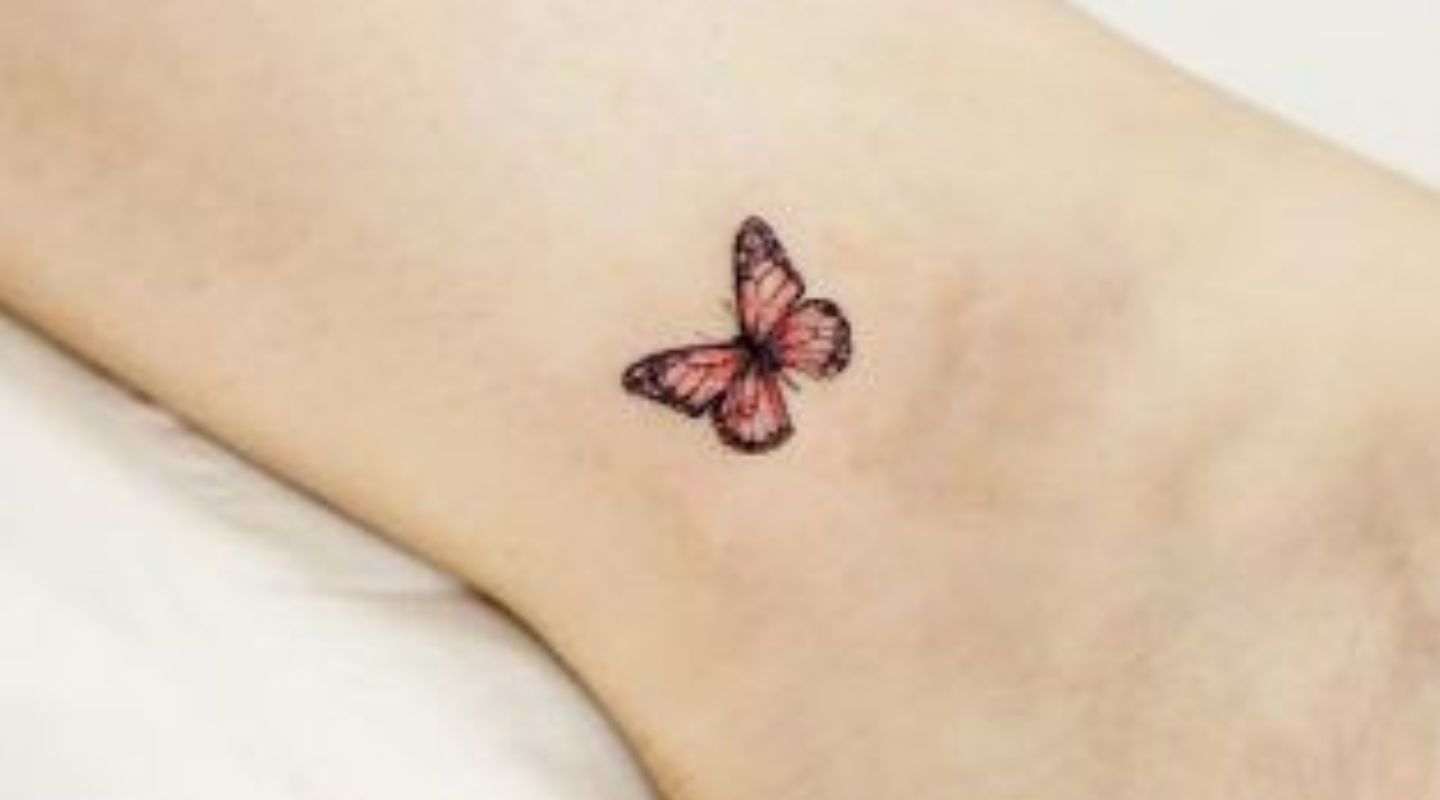 Source: pinterest.com
These tiny flying babies always manage to captivate people's hearts and imaginations as they flit about carefree.
Tattoos of butterflies are a tribute to one of nature's most exquisite features. They can represent a variety of ideas, but independence and a love of pets and insects stand out as their most important meanings.
The fleeting nature of life, how swiftly things are born and die, yet how lovely the time is spent in this existence, may also be embraced through the use of butterflies as tattoo designs.
As with most things in life, it all depends on your point of view.