Featured image credit : pinterest.com
With so many great dragon tattoo ideas out there, choosing the right one can be quite a struggle.
If you are looking for an eye-catching tattoo, a dragon with flowers tattoo is a great option and can be applied in different sizes and designs.
Flowers tattoo ideas, combined with a dragon, look amazing on the skin and have become a popular choice of body art. Colorful dragon tattoos are extremely detailed body art and require an expert tattoo artist.
Read on to find out what these flower dragon tattoos mean and which floral elements you should choose for your dragon tattoo.
Flower Tattoo Meaning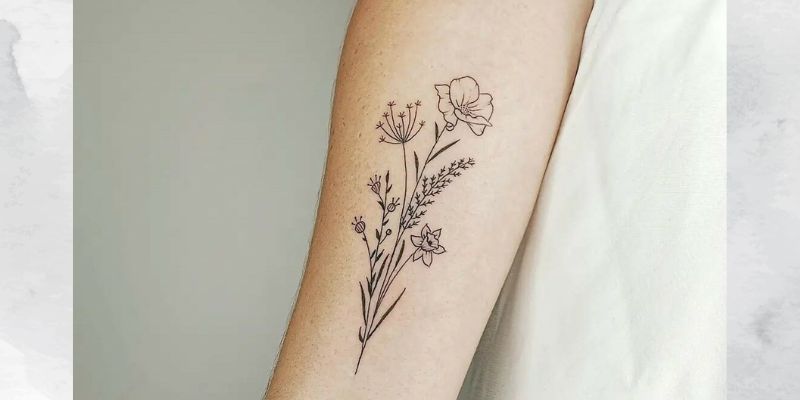 Source: outsons.com
There are as many meanings as there are flower tattoos available. The general consensus is that flowers signify prosperity; the more flowers, the better for the one wearing them on their skin.
A white flower symbolizes enlightenment, while pink flowers stand for spiritual enlightenment, devotion, and purity. Huge flower tattoos are more prominent and look incredible when combined with any color or type of dragon tattoo.
Not all flower tattoos have the same meaning in different cultures. For example, Hibiscus flowers mean gentleness in Japan but royalty in Hawaii. Some flowers represent fragility, while a collection of huge flowers can mean various things, such as honesty and forgiveness.
With so many flowers to choose from, each with its own meaning, it can become a bit confusing, but they will always make a beautiful tattoo.
Colorful Dragon Tattoo Ideas
There are many colorful dragon tattoo ideas to choose from, each with a different meaning. Whether you want a small dragon tattoo or something that fills your entire back, we have some great tattoo ideas.
You should ask your tattoo artist to show you what they have available, so you can choose one that best matches your personality. Alternatively, you can find an idea you like and ask the tattoo artist to create a custom design for you.
Japanese Dragon Tattoos With Flowers
Source: Pinterest
With a Japanese dragon tattoo, you can use any f lower. For example, adding a violet flower symbolizes sincerity or bliss, whereas a spider lily symbolizes wealth or success. You can easily search online for the most popular Japanese flowers and their meanings.
Dragon tattoos from Asian culture often use many different flowers to create beautiful and powerful tattoos.
Chinese Dragon Tattoo with Flowers
Source: Pinterest
The Chinese dragon tattoo with flowers is a very common choice and comes in various colors and sizes.
Flowers from the Chinese zodiac can be seen in many different dragon tattoos from Chinese culture.
A flaming Chinese dragon, together with different types of flowers, often symbolizes passion and sexuality.
Traditional Dragon Tattoos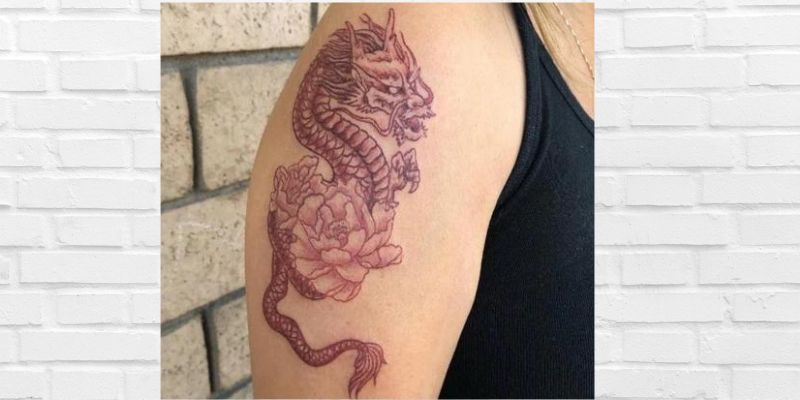 Source: mrinkwells.com
The traditional dragon tattoo combined with the lotus flower represents wisdom in Buddhist culture, but you can choose from many flowers that all have different meanings - look up the meanings of these flowers to find one that fits you.
Black Dragon Tattoos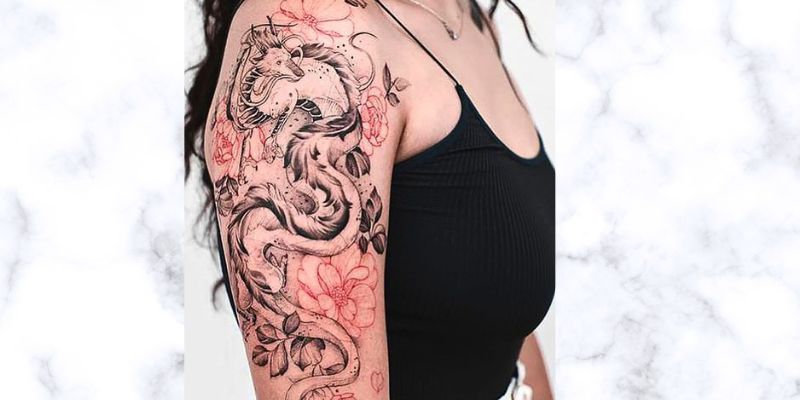 Source: withtattoo.com
The black dragon tattoo with flowers tattooed in black ink is a favorite choice among many cultures.
Other Dragon Tattoos
We made a short list of the most popular flowers and dragon tattoos to make it easier for you to find inspiration:
A small dragon tattoo with different flowers.
A fierce dragon tattoo. This tattoo symbolizes power and strength, and when combined with the right flowers, it can also symbolize compassion.
A Dragon Ball Z tattoo.
Getting a traditional dragon tattoo, whether in black ink or color, has a very strong symbolic meaning and is a very powerful tattoo. Dragons symbolize good fortune, strength, happiness, and courage.
Conclusion
All dragon tattoos have a fierce nature, but combining them with flowers can change the image.
Combining flowers and dragons can make for a very detailed tattoo. The tattoo must be carefully and professionally done to properly depict a strong symbolic meaning.